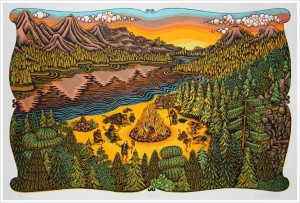 14 August 2015, 22:53 Kuala Lumpur
The sky is lighted up by fiery Leo energy with this new moon.
New Moon times can be said to be the coming together of the masculine yang of the Sun and the feminine Yin of the moon. This monthly marriage of the Sun and moon is a time for us to be still, and to tune into our inner knowing as to where we are, and how we are in our lives. It is during this time that we can plan for what we wish to see unfold in our futures. New moon times are especially potent for wish making and intention setting.
The sign of Leo rules the heart. Leo energy is warm, life affirming, expressive and creative. This new moon in Leo is conjunct to a retrograde Venus, who has been asking us to consider what our hearts truly value, and whether we are expressing and aligning with our hearts, and expressing the truth of who we are in our lives.
Some questions to consider during this new moon are, where and how do we experience joy in our life? Are there areas in our life which could use more playfulness and spontaneous expression? What are our values in friendship, romance, love and creativity? Do we feel that we can express and create a life based on our heart's true values? How is our heart doing?
With Uranus trined to the new moon, we may find that it is easy to break through any stale mates with regards to old patterns that hold us back from living and expressing from our hearts. We may also find it easy to renew affections and relationships at this time. Uranus trine to the new moon also speaks to creative break throughs and realizations, innovation and genius. The Leo Sun and Moon combination asks us to shine our light out onto the world, and to live a life aligned with our heart's fire.
Empowered by Melissa Lin
I am an artist and astrologer who is currently living in, and exploring the wonderful wild world of Gabon. I have been interested in all things magical from a young age. That includes astrology, numerology, music and art. I began studying astrology during my Saturn return, and became a certified astrologer with Nightlight Astrology.
Astrology is a tool that offers wisdom and insight into the human soul and psyche. It can help you to align and return to who you truly are. It is a journey into self understanding that leads to self acceptance, self love and joy.
I love working with people using Astrology to uncover and reveal each person's unique life path. Each person has special gifts and abilities, and Astrology can help one in finding and expressing those gifts.
Apart from mapping your story and potential, Astrology can also help you to see where you are in the cycle of life, helping you to navigate life challenges, prepare for and create options for a happy and bright future.
If you are interested in exploring your natal chart, or want help with career, emotional,relationship or money questions from an Astrological point of view, get a reading here.
Upcoming Workshop
Event Categories:
Event Categories:
No event found