Elisa Novick
Elisa Novick and Thriving Planet World Tour NOW in Malaysia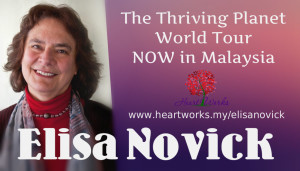 Master healer and teacher Elisa Novick brings the Thriving Planet World Tour through France, Holland, Belgium, England, Bali and now right at our doorsteps here in Malaysia. The Thriving Planet World Tour comes at a pivotal time in history to shift each and every one to become all we were meant to be and to uplift our world on an energetic and spiritual level to a new manifestation on earth.
Elisa Novick, MSS does profound work as a healer, teacher, counselor, coach, minister, and facilitator of workshops and trainings in personal, professional, and spiritual development. She brings her inspired teachings and experience in facilitating over 1000 workshops to us.
Elisa will be facilitating four workshops in HeartWorks, Kuala Lumpur, and will also be available for individual sessions. These weekend immersions will bring participants on an accelerated and deepened learning process in ways you have yet to imagine to become the magnificent Master of Life and Light that all of us are destined to be.
Workshops by Elisa Novick at HeartWorks
1
Laboratory of Life: Becoming Masters of Life and Light
In this workshop you will have an opportunity to participate in an amazing and enjoyable experiential process toward becoming all you were meant to be.
The work is highly personal and accessible, flexibly tailored to the individuals present in the group, as well as spiritually uplifting, without limits in its application.
We exist within a complex multidimensional web of relationship that transcends time and space. As we heal ancient limiting patterns, we become able to tap into greater levels of freedom and capability and can take part in the magnificent creation that is this universe.
The configuration of people through the space of a room or other environment is used to create a dynamic map of relationship. Consciousness is holographic, and can be perceived by intentional movement in relationship to people and situations.
In this very safe environment, you can see how your inner life, your approach to relationship, family and ancestral influences, and social, political, and ecological systemic disturbances, affect your way of being in the world — not always consciously. As we learn new ways of being, we are free to re-create and co-create a world in which all can thrive, where action arises from integrity, inner knowing, and our innate goodness and joy
Because the method is experiential, rather than didactic, the results are profound. It provides you with an opportunity to learn deeply about yourself and the underlying energetic patterns that inform your reality.
The most beautiful aspect of the Laboratory of Life, is that it is endlessly creative, because it is a discovery process. It is totally involving because everyone participating is making discoveries about themselves and their worlds.
Testimonial:
"The time I spent in the Laboratory of Life workshop was amazing! Elisa made us feel safe and seen… It was powerful, liberating and truly magical! Elisa is one of the best facilitators I have ever experienced."
~ Brett Bevell, Omega Institute for Holistic Studies, Reiki Master, author
Laboratory of Life: Becoming Masters of Life and Light
2
Planet Healing Planet Thriving & Tree Love: Heart of the Forest
A Call to All to Restore Balance and Health to
 Our Beautiful Planet
This is a pivotal time in history when shifting our world from a course of self-destruction to one of wholesomeness and love is essential. Join a world-wide stream of healing and thriving for our beautiful planet.
If you have wished or prayed to be able to serve in a greater way, the world we want starts with us. We have within us the ability to call forth the original, pristine perfect balance and resilience that life has created over millions of years. And together we can co-create coherent, exquisite patterns of healing and thriving to act as new blueprints for a future trajectory for us and our planet. We come together in trust that these new patterns become the seed-forms, the new paradigms, the organizing principles — available to all and for the highest good of all.
When group consciousness is aligned with sincere intention in harmony, without sacrificing our unique individual selves, we can enter into service to the whole.
We will create these patterns by forming them within ourselves, within our groups, and within the living matrix of the world. In a powerful constellational process (the Laboratory of Life), we will use our contact our inner knowing and loving intention to bring healing and thriving into our lives and into the world.
We realize that there is more to us than we have ever known and that inside of us, we know exactly what is needed. We broadcast clear, pure signals. We become full universal citizens, capable of transmuting and transforming the current underlying energetic patterns to ones that support and energize life abundant. We respond to a call that has always been in our hearts, come forward with abilities we didn't know we had, and take joy in the information and blessings flowing through us.
Testimonial:
"My favorite part is when the group intention and energies create energetic geometric forms that build a matrix for new patterns of consciousness on Planet Earth."
~ Stanley Wooley, teacher, artist, healer