Alia Kearney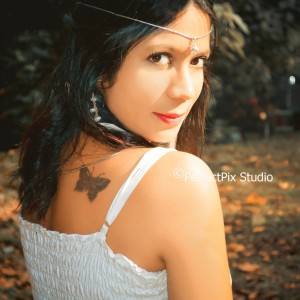 Alia started going for meditation circles when she was 19 and then things skyrocketed from there and her spiritual abilities took off. Her Clairvoyance ability opened up straightaway, and developed at a very fast pace. Having had a background in singing on stage, Alia immediately gravitated towards Sound Healing and since then have led Sound Healing Circles in both Singapore and Malaysia. She lived in Ireland for several years and this is where she did most of her Practitioner training.
Alia works with your guardian angels to empower you, guide you and give you the confirmation you seek. Her clients have reported back feeling a positive drastic change in their lives after just one session with her. She has also had success in working with people suffering from depression.
Alia has conducted Guardian Angel Workshops in both Ireland and Malaysia, and regularly holds meditation/healing circles working with a variant of energies. She also conducts Psychic Medium workshops that help participants to open up and use their own psychic abilities.
Her background in Psychology has given her the tools to understand human behaviour and has helped her in her spiritual counseling sessions. Her certifications include; Realm Reader with Doreen Virtue, Dolphin Sound Healing with Patricia Athena (Australia), Angel Guidance Practitioner (Ireland) with Catherine McMahon. She also trained as a Psychic Medium to connect with loved ones and pets who have passed on. She is a certified Angel Teacher with the Diana Cooper School after completing a 3-week Angel Teacher Training course in Ireland. Alia is currently studying for her Doctorate in Divinity specialising in Spiritual Healing with the University of Metaphysics.
#Tarot card and oracle reading by Alia Kearney
#Sacred earth realms healing and activation
Healing Testimonial
Healing with Alia was transformative and profound for me. I felt the presences of the angels in the healing room and was moved by their love. While I was on the healing bed, tears rolled down my cheeks as their love penetrated every fiber of my being. Their loving messages proved to me that the angels are in my life and my prayers were heard. In the end, I was left with a feeling of gratitude and a knowing that we are never truly alone.
James Ranauro  (Kuala Lumpur, Malaysia) 
The session was amazing and Alia was so wonderful. She made you feel relaxed and alleviated any doubts, fears and concerns very quickly. The session helped me tremendously in discovering what I was really meant to do, surprising knowledge about myself and gave me much needed clarity in terms of my life pathway. Overall I would recommend this healing session for all those seeking that assurance as to what they need to do to get to where they want to be or anything else they want answers to. You will feel refreshed, relaxed and invigorated after the session. Plus Alia has such a soothing and beautiful voice – the angels do really sing to you!
Ranita Rajandram, Kuala Lumpur
I found Alia's healing session truly healing and inspiring. I felt truly connected and loved by my guardian Angels and all my questions were answered. I could feel great energy moving through my body during the healing process. I definitely felt lighter and energized.
Amreeta Kaur, Kuala Lumpur
"I chanced upon Alia's page and was drawn to meeting her. Although I didn't have any particular ailment or problem, I was intrigued and decided to meet her for a basic healing session. It was probably the best hour I had spent on myself in a long while. Alia has amazing gifts that touches you in your heart and highlights deep seated issues that may be subtly bothering you. When she sings, it feels as if I am serenaded by angels. My heart soars with joy. After my session with Alia, she had successfully ground my feet, cleared my head of the mental clutter and filled my heart with a loving energy. My body feels great, from exhaustion to feeling circulated and energized. Thank you for sharing your gift to help me, Alia."
Daisy, Kuala Lumpur
"My session with Alia was amazing! She made me so feel comfortable and relaxed. I had been going through a lot of changes in my life and wanted to work through some of the issues and emotions. As soon as she started I could feel a pressure, it was not negative, but it was there, and really heavy. Throughout the therapy this pressure shifted and changed and by the end, was a strong, positive energy, filled with light. Since then, I have been able to focus more on the positive and have had more energy. Alia has a gift for knowing and understanding many of the things that are bothering you, and helps you work through them, with the support and love of the angels."

Alisa Gouraud, Kuala Lumpur
Prior appointment is necessary. To book a session, please contact us.